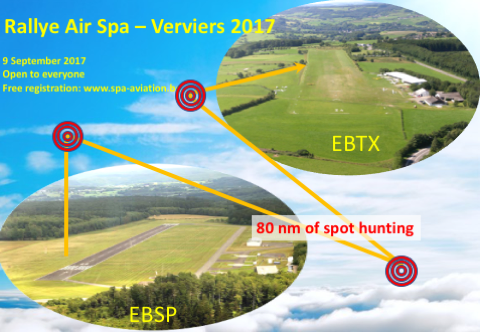 As a pilot, do you want to take part in a friendly challenge by pilots for pilots?
If you share our passion of flying as ground spectator, do you want to see a lot of planes on Saturday 9th of September?
Then, feel free too join us at the Spa (EBSP) and Verviers/Theux (EBTX) airfields for a friendly competition among crews: cross-country flight over specific spots (+/- 1 hour), precision landing & parking, knowledge quizz, ... All of this in a relax atmosphere and in a safe and serious environment.
Around 18:30, there is the result publication, followed by a free drink for the non-pilot and a dinner on the airfield (open to everyone but every participant will have to pay for dinner).
Free but mandatory registration and the landing feeds are waived in Spa and Theux for all participating crews.
To register: email to This email address is being protected from spambots. You need JavaScript enabled to view it. or via an electronic form in French or in Dutch.
French and English will be used on that day.